POST 143
Puerto Aventuras December 8th, 2020
PUERTO AVENTURAS
MOVING FORWARD TO 2021
NO MORE LIES . . .
For some time, I have been holding back on clarifying misinformation and answering to lies published in different media. I have done this out of respect for all who believed and invested to enjoy, certainly not to be involved in "politics" that bring incertitude and discomfort. This document is not anonymous, it is signed with first and last name and the statements expressed are backed by addendums for your confirmation.
The Association has been in a "path of war" led by Mr. Pablo Alcocer, lawyer of the Association, anonymous author of media communications and promoter of litigations that have cost $ 4 million pesos and $ 1.4 million solicited for approval.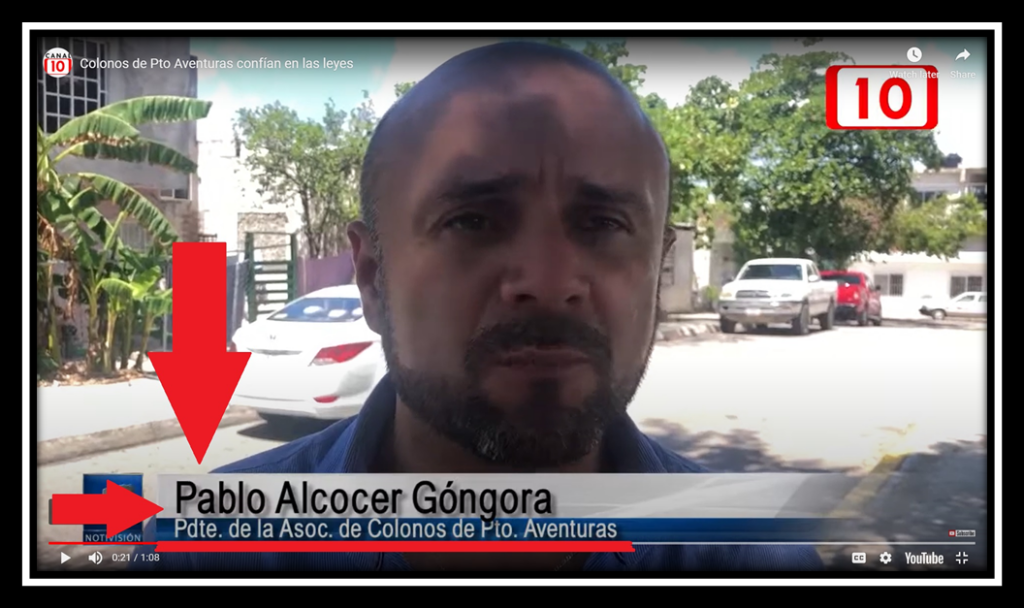 TV Interview with Pablo Alcocer lawyer of the Association presenting himself as President of the Association.
The first lies come from the Board´s lawyer, making them believe that the money is well spent and the litigations are being won while they have all failed.
a) Penal litigation on main access against Fideicomiso was determined of no action in favor Fideicomiso Sept. 2020. (Addendum 1… Pub. record: Oficio FGE/QR/DRMPRM/UDP/12/2086/2019).
b) Civil litigation on main access against Fideicomiso was declared as not proceeding and sentenced in favor of Fideicomiso November 18, 2020. (Addendum 2, Pub. record: Juzgado Civil Solidaridad Q Roo Exp 215/2019).
It is a fact that all litigations have come from Colonos against Fideicomiso; there has not been a single litigation from Fideicomiso against Colonos.
Fideicomiso holds two personal litigations against Mr. Roko Izarra who happens to be Secretary to the Board and is being defended by Association lawyer.
c) Mr. Roko I. signed contract to purchase a marina lot and build a house. He was behind 11 months in his payments when contract states 3 months for cancellation. (Cancellation in process).
d) Mr. Roko I. destroyed property of Fideicomiso at entrance and in spite of offer for him to pay $30,000 pesos invoice for replacement he was misled by lawyer to litigate. On Nov. 23 2020, Distrito Judicial de Q. Roo determined Mr. Roko I. Subject to process with risk of jail, obligated to present himself every following Monday, economic deposit of guarantee and maintaining distance from parties related to litigation. (Addendum 3. Juzgado Penal Q Roo Exp. 394/2019).
Note: Under the law, Mr. Roko Izarra has no representation in the Board since he is not an owner his property being under litigation.
ROMÁN RIVERA TORRES
ANEXOS