Puerto Aventuras April 2021
OPERATION OF PUERTO AVENTURAS
REQUIREMENTS
ANTECEDENT
We broke ground in 1988 as the first large-scale development to happen in the Riviera Maya. It was an area of beautiful beaches and dense jungle with no services or infrastructure of any kind which meant that we had to create the services and, in some cases, operate them on concession from the authorities.
Government relations. The forecast for Playa del Carmen as the fastest growing city in America showed us that local authorities would not be able to provide the quality services our Resort would require.
A non precedented agreement with Municipality was signed to maintain Puerto independent and operated by the Developer and the community represented by an Association. The total area would remain as one single unit, streets and green areas would remain private for common use and government participation would come only when required.
Water and Treatment Systems. Since there was no government infrastructure to provide the service at the time an unprecedented concession was issued for Puerto Aventuras to obtain water from the underground and distribute it throughout the Master Plan. The government would receive payment for water extracted from underground and concessionary would receive payment for operation including treatment and recycling.
Electricity. We had to provide 33km lines from Playa del Carmen, donate the land for a substation larger than our needs, purchase the station and donate it to CFE (government power company) in order to electricity on site.
Fiber Optics. Since Telmex required a large investment on our part and would not guarantee time or quality we signed an agreement with an international communication company that would help us turn our Resort into a digital community.
Association. In order to function as an independent and self-operated Resort, the Developer established an Association formed by representatives from our community to operate our Resort and collect fees from owners and residents to cover for the obligations usually provided by government.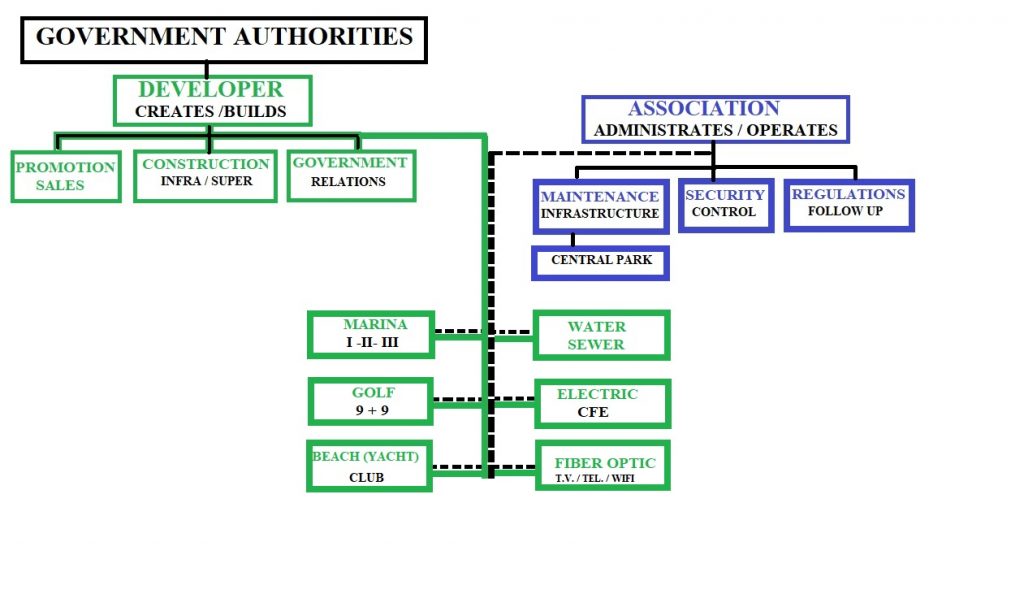 OPERATION
Under this new unique formula Puerto Aventuras is administrated, operated and maintained under a ¨joint responsibility¨ by Fideicomiso as the Developer and PA Covenant AC as the homeowners´ Association with the following responsibilities:
The value of Puerto Aventuras and our personal properties will be according to the success of the operation and maintenance of our original Resort. All owners and residents forming part of our community will participate in this process by paying their fees and will enjoy the diversity of attractions and services provided. Following on the principle to create a private Resort, automatic admission will be granted to owners and residents affiliated and limited to outsiders and others. Owners and residents affiliated will enjoy a 20% discount in all prices and costs in all services and attractions including the use of our Clubs, Hospitality, Food and Beverage, Water and Fiber Optics starting on July 1st 2021.
By creating a digital community, we will guarantee a functional operation for the enjoyment of our community. In preparation for 2022, beginning January 1st 2022 all fees and service costs will be concentrated under Covenant administration including water and optional fiber optics.